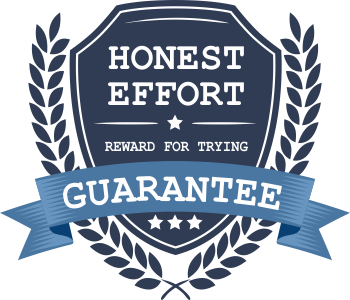 Wholesale Membership Guarantee
In this life we don't get many chances for a "do-over".  But at TopSurfer we believe in giving you an extra chance.  That is why we offer an "Honest Effort Guarantee".
If you became a TopSurfer Wholesale Member and you tried to get people to upgrade under you but you couldn't even get one in one month then we will give you more time.
Here is how it works:
If, as a wholesale member, you receive 2000 visitors to your referral links while you are an active wholesale member
AND if you are NOT able to get one of your referrals to upgrade under you,
then you will receive an automatic extension of your wholesale membership.
DETAILS:
The counters to these sites accumulate together.
Therefore if you get 50 visitors to one
and 50 visitors to the other, the counter will show 100 visitors.
The counters will not accept a visit from the same IP address twice in a row.
So you can not AND should not try to inflate your own counter numbers.
Your counters will reset when someone upgrades under you.
Your counters will reset when you re-upgrade your own account.
If your counters have reached 2000+
AND your wholesale membership has been extended,
AND then someone upgrades under you;
your counter will be reset and you will be given 48 hours to re-upgrade.
Which is to give you sufficient time to re-upgrade.
Extensions do not come with any credits.
You can only get up to 1 (one) month of extensions at one time.
Any cheating in anyway will nullify this guarantee.
Counters will appear in the wholesale section of the TopSurfer member's area.
It is each members responsibility to make sure that their counter is functioning properly.
And that they are using the correct referral links.
There are no cash refunds offered with this guarantee, only extensions of the wholesale membership.
FREQUENT ASKED QUESTIONS:

Question: What is the maximum amount of days the extension can last?
Answer: 30.
Question: How come my counter started over?
Answer: When your referrals upgrade the counter starts over. It also starts over when you upgrade.
Question: When one of my referrals upgrades under me and my wholesale membership has been extended, will I need to then pay to upgrade myself?
Answer: Yes, if your wholesale membership has been extended and you get one of your referrals to upgrade under you, you will then have 48 hours to pay your fee and re-upgrade yourself.
Question: I have over 2000 visits why did I get a notice saying that my wholesale membership is about to expire?
Answer: This is an automatic system that sends it out regardless of how many visits you have. We do this so that you will be make sure that you either pay it or that you have enough visits.
Question: Instead of an extension can I just get my money back?
Answer: No, this is not a money back guarantee, it only gives an extension.
Question: Will I get in trouble if I view my own referral pages, since it increases my visits?
Answer: Only if you are attempting to view it over and over repeatedly, to inflate your counter numbers.
Question: My counter isn't working when I tested it?
Answer: The counter records IP addresses, and will not increment the counter for the same IP address in a row. In other words it notices that you were on the page recently so it does not increment.
Question: Where can I get my referral links?
Answer: If you are logged in to the member's area, just go here: https://topsurfer.com/members/share_topsurfer.php
Question: How do I send the 2000 visitors to my referral pages?
Answer: The 2000 visitors can come from almost anywhere (NOT SPAM). You can tell your friends to look it over on Facebook or other social sites, you can give your referral urls to other hit exchanges, or safelists. You can advertise it on classified ad websites. If you currently have another website, you can put banners and links on that site to get people to click on the links.